---
Video interview
Video interview with one of the ATSAS founders – Nicolas Netien
---
About the Product

The organic, early-harvest ATSAS olive oil is a premium quality product that will surely be appreciated by those who care about their health and the health of their loved ones. This oil is cold-pressed, using mechanical means and possesses an extraordinarily high polyphenol concentration. This exceptional characteristics of ATSAS olive oil has caught the attention of researchers who recognize the remarkable health benefits this extraordinary oil brings. Scientists are constantly discovering its new and exciting benefits. The oil's health benefits can help in the prevention, treatment and sometimes reversal of symptoms in case of number of illnesses. Due to the high concentration of polyphenols, it is recommended to use only a small amount of ATSAS oil – half a teaspoon daily is sufficient.
---
Organic Farming
Olive trees are grown in an organic farm in Cyprus, where advanced sustainable farming methods are practiced, based on the latest discoveries in biochemistry. No chemical fertilizers are used here – the soil is fertilized with natural compost and enriched with beneficial microorganisms. Benign fungi, in symbiosis with olive trees, supply the trees with nutrients, enhance their immunity and thus help to ensure a very good olive harvest. Olive trees grown in excellent climatic and terrain conditions give a very high yield of olives rich in vitamins, minerals and biologically active components. These olives are the source of the extra virgin cold pressed ATSAS oil.
Nicolas Netien, one of the founders of ATSAS oil farm, is an expert in environmental engineering. He came to Cyprus for research purpose and was fascinated by the extraordinary nature of the country and the climatic conditions that allow experimenting in organic farming. Nicolas believes that sustainable organic farming is a very promising global trend.
Olives are harvested early, when their concentration of polyphenols is the highest. From these olives only a small amount of oil can be extracted, but the oil is extremely rich and maximally saturated with polyphenols that are beneficial to our health.
The method of oil extraction is also very important. The olives are harvested by hand and usually, it takes not more than 30 minutes from the time they are plucked from the tree until the oil extraction begins. This is done to preserve as much of the beneficial compounds as possible and to protect the olives from the inevitable oxidation and fermentation processes that occur during storage in the warehouse. Many oil factories add water and heat up the pressure equipment in order to accelerate the process and extract more oil, but for ATSAS oil is only the cold-press method is applied, and no additives are used. Unlike industrially-produced oils, ATSAS oil is not filtered. It is left in the tank for about a month, for the sediment and impurities to settle on the bottom of the tank.
ATSAS oil is bottled in little black bottles made of opaque glass, to preserve as much of the oil's valuable properties as possible. It is known that direct UV rays, as well as contact with oxygen, change the chemical composition of extra virgin olive oil and it may lose its nutritious properties, this is why it is important to store the oil in a cool and dry place and not to keep the oil bottle open for a long time.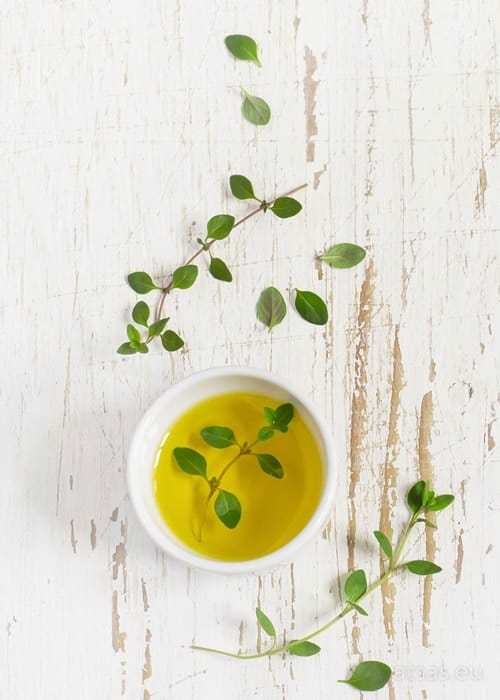 ---
Health Benefits
Research shows evidence that extra virgin olive oil (evoo) brings a number of health benefits. The results of various studies suggest that thanks to high levels of biologically active substances extra virgin oil has the following effects:

Oncological diseases prevention
Reduces the likelihood of various types of oncological diseases (breast cancer, skin cancer, prostate cancer etc.). Natural antioxidants in oil are believed to reduce cellular damage caused by free radicals during oxidation: this harmful effect of free radicals is believed to be one of the main causes of some types of oncological diseases. It has also been observed that one of the polyphenols, oleocanthal, seems to trigger the breakdown of cancerous cells in the body without harming healthy cells.
Risk mitigation of heart attack and stroke
Supports vascular elasticity, improves blood circulation and reduces the risk of heart attack and stroke, and help to regulate blood pressure. It has long been noted that people in the Mediterranean region rarely su"er from cardiovascular diseases. One of the main causes of this phenomenon is the so- called Mediterranean diet, where virgin cold-pressed olive oil is one of the staples. The polyphenols in it are believed to reduce blood cholesterol levels, prevent the oxidation of blood lipids, help maintain optimum blood fluidity and prevent thrombosis, whereas the monounsaturated fatty acids improve the elasticity of blood vessel walls and thus support blood circulation.

The effect on Alzheimer's disease risk
Reduces the risk of Alzheimer's disease. In a few clinical studies, a reduction in symptoms of Alzheimer's disease was observed when study participants regularly consumed cold-pressed extra virgin olive oil. The polyphenols contained in the oil are thought to prevent the formation of cellular plaques in the brain cells, those plaques are strongly linked to Alzheimer's disease. Experiments with mice have shown that polyphenols are able to break down these plaques and could possibly not only halt the development of the disease, but also restore brain function.
Anti-inflammatory effect
Has anti-inflammatory ffect and inhibits the symptoms of joint diseases such as rheumatoid arthritis. Natural antioxidants, such as oleocanthal, play the key role, and their effects are very similar to those of the well-known anti-inflammatory drug Ibuprofen, commonly used to relieve pain and reduce inflammation. There is evidence that the use of extra virgin cold- pressed olive oil reduces the likelihood of developing rheumatoid arthritis as much as 2.5 times.

Risk mitigation of type 2 diabetes
Reduces the risk of type 2 diabetes. According to a study conducted in Spain, the results of which were published in Diabetes Care, a diet rich in extra virgin olive oil reduces the risk of second type diabetes by as much as 50% compared to other diets lacking the monounsaturated and polyunsaturated fatty acids needed by the human body. Type 2 diabetes is not only the most common form of diabetes, but also the easiest to prevent.
Parkinson's disease prevention
Prevents Parkinson's disease. Due to their strong antioxidant effect, polyphenols prevent neurodegenerative diseases such as Parkinson's disease. Laboratory tests have shown that polyphenols can stop the development of the disease and even restore the function of cells that have already been damaged.
---
Scientific Research
What makes the extra virgin cold-pressed ATSAS olive oil more valuable than conventional olive oil?

What makes the extra virgin cold-pressed ATSAS olive oil more valuable than conventional olive oil? This oil contains a particularly high concentration of biologically active components – powerful natural antioxidants known as polyphenols. This is what determines not only the rich, distinctive flavor of the oil, but also its multiple health and beauty benefits. According to the European Union regulations (EC Regulation 432/2012), oil with polyphenol content above 250 mg / l can be considered a nutraceutical product. The polyphenol content in ATSAS oil is extremely high – more than 2000 mg / l.
In 2017, ATSAS oil participated at the International Olive Oil Competition in London, and was awarded a medal in the Health Claim category. This competition, where a committee made up of scientific experts examines and evaluates anonymous olive samples in a laboratory, is the first international competition that focuses not only on the taste properties of olive oil, but also on its nutraceutical properties.
In a study conducted by the University of Athens in 2017, polyphenol concentration in ATSAS oil was found to be the highest ever recorded and well above the polyphenolic content in other olive oils from different countries.
In a study conducted by the University of Athens in 2017, polyphenol concentration in ATSAS oil was found to be the highest ever recorded and well above the polyphenolic content in other olive oils from different countries.
---
ATSAS oil was awarded
Gold Medal Olympia Awards Health & Nutrition in 2016 – 2019
Double Gold Medal Aristoleo Award Health in 2017
Triple Gold Medal Aristoleo Award Health in 2018
Silver Medal London Health in 20181
---
Sources of scientific research
Nutraceutical Properties of Olive Oil Polyphenols. An Itinerary from Cultured Cells through Animal Models to Humans
Olive Oil Polyphenols Decrease LDL Concentrations and LDL Atherogenicity in Men in a Randomized Controlled Trial
Effects of Olive Oil Phenolic Compounds on Inflammation in the Prevention and Treatment of Coronary Artery Disease
Certificates of analysis